Katie Kaminski, MRT (R), is the lead mammography technologist for Mayfair Diagnostics in Alberta, Canada. Katie has been with Mayfair since 2012 and is responsible for maintaining Mayfair's screening and diagnostic mammography program. She monitors quality performance for 40+ technologists across Mayfair's 11 mammography facilities, which perform over 54,000 screening and diagnostic mammograms each year. Mayfair Diagnostics is owned and operated by over 60 radiologists and employs more than 400 employees.
In this interview, Katie shares how she partnered with colleagues Michelle Benoit, infrastructure specialist, and Christina Shahipour, lead sonographer for breast ultrasound, to implement important changes to breast imaging quality assurance across Mayfair's facilities and inspire change within Alberta.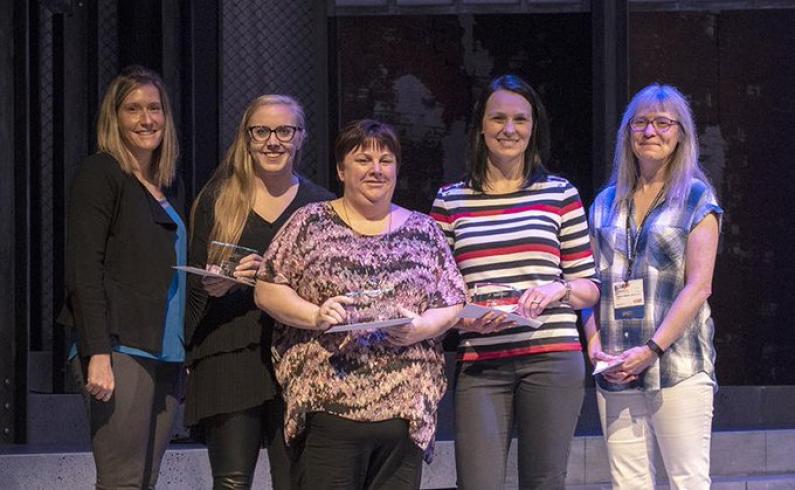 1. Volpara: First, congratulations on your award. Can you tell us more about it?
Michelle, Christina, and I received the Excellence in Professional Collaboration award from the Alberta College of Medical Diagnostic and Therapeutic Technologists (ACMDTT) in recognition of our work in helping Mayfair implement the VolparaEnterprise software for mammography quality assurance. Our success with this also led to [VolparaEnterprise] being adopted by the Alberta Society of Radiologists (ASR) as an approved tool for mammography. The award also acknowledged the success of our accredited Automated Breast Ultrasound training program for mammography technologists.
2. Volpara: Why did Mayfair implement VolparaEnterprise software for mammography quality assurance?
It was an organizational decision based on a number of factors, for which I provided input and recommendations. From my personal experience, I spend four days a week in the clinical setting, with one day a week dedicated to the mammography coordinator role. That day is dedicated to educational efforts as well as monitoring quality for each of our technologists. I have a finite amount of time dedicated to these efforts. Anything that can make the process more efficient is very helpful.
The previous assessment process had not been updated for a while and was time-consuming. The audit could take place six months after the case was captured, so affecting change was difficult.
With VolparaEnterprise, each technologist can monitor her positioning and compression performance on a daily basis. We can set goals each month and evaluate progress towards achieving those goals, giving individuals an opportunity to focus on specific areas where they may need help. The technologists have a true picture of their performance, both successes and areas for improvement, and they are provided resources to improve.
3. Volpara: Why did the ASR adopt VolparaEnterprise as a quality assurance tool for mammography?
Mayfair approached the ASR to ask if we could use the VolparaEnterprise technology to replace the older version of the technologist audit. To help the ASR understand how the audit would compare, we outlined how we intended to use the program and provided information on the software itself. They quickly saw the benefits of having access to each case performed by a technologist at the time of the exam and using an audit method that was potentially less time-consuming. After the ASR authorized Mayfair to use VolparaEnterprise technology as our main method of audit, they decided to also allow other radiology companies in Alberta to use this tool.
4. Volpara: The other part of your award addresses Automated Breast Ultrasound (ABUS) training; why did you train mammography technologists to perform ABUS exams?
Our mammography technologists have a great understanding of breast anatomy and pathology, so it made sense to teach them how to use the ABUS technology. Although ABUS images use ultrasound imaging and not x-ray, the exams are similar to mammography because we are imaging the entire breast. Instead of scanning live and looking at a specific area, as with handheld breast ultrasound imaging, ABUS takes still images of the entire breast from a variety of angles. It's very similar to how mammography works. Doctors often request ABUS to complement mammography imaging, especially in cases of high breast density, because the two imaging types working together can produce a more complete picture of the breast. We call this a Complete Breast Assessment, and these exams are more efficient if performed by one technologist. Without the need to pass the patient on to a new technologist for the ultrasound portion of the exam, the technologist is better able to build a level of trust with the patient when she performs both exams, which can sometimes make patients less anxious.
We worked with the ACMDTT to help develop an advanced practice permit for mammography technologists to be able to perform the ABUS exams, and then trained 20+ Mayfair mammography technologists. They learn not only how to operate the ABUS machine and obtain diagnostic images, but also ultrasound physics and safety.
5. Volpara: How have patients responded?
Our patients appreciate not having to change technologists. The process is much quicker, with both a mammogram and bilateral breast ultrasound completed in under 30 minutes. Patients love that and find the whole process much more comfortable.
6. Volpara: What's next for breast imaging at Mayfair?
Mayfair has recently installed four GE Pristina Dueta mammography machines, which gives patients the option to assist the technologist with applying the compression, allowing for a much more comfortable exam. Our patient feedback has been overwhelmingly positive, and we are excited to install further units at our other clinics.
We are also committed to breast health education and spend a lot of time educating women in our communities about why breast screening is important. We cover many topics, including mammography recommendations on what age to start and how often to screen, how to prepare for an exam, what to expect during your exam, and cost considerations. We also explain how the technology and accuracy of diagnosis have improved, and what we are doing to make the whole process easier and more comfortable. We will continue to do this going forward.