Six global research partners share their experience working with Volpara
Since Volpara was founded in 2009–based on AI technology originally conceived at the University of Oxford–we have been focused on supporting researchers in their clinical and academic study of breast cancer. Now, after more than a decade of work, Volpara software has been used in more than 200 peer-reviewed papers and has been featured in over 200 additional scientific works – including conference presentations, books, and review articles. Attaining this milestone is a huge accomplishment for any company in the breast imaging field. Furthermore, it is also an important independent validation of the Volpara software. But don't take it from me, let's hear from the researchers themselves. 
Why did you choose to use Volpara for your research? 
Professor Martin Yaffe (Sunnybrook Research Institute, Toronto, ON, Canada): We continue to use Volpara quantitative density measurements in studies where we are looking at changes in breast density as a possible indicator of changes in breast cancer risk, for example in [the] evaluation of potential risk-reducing interventions. We also use Volpara density as input to an algorithm that we have developed to predict masking of breast cancers in mammograms by tissue density. The goal is precision screening where women for whom there is a high risk of cancer masking can be directed to alternative or supplemental screening modalities. 
Associate Professor Adetunji Toriola (Washington University School of Medicine, St. Louis, MO, United States): I was an early adopter of Volpara and I have used Volpara [software] for several projects since 2013. I have been evaluating determinants of mammographic breast density with a goal towards identifying potential targets. I am currently using it in a phase II chemoprevention clinical trial quantifying changes in mammographic density in response to an intervention. I chose Volpara because of the reproducible volumetric measures of mammographic breast density it provides, as well as the ease of use.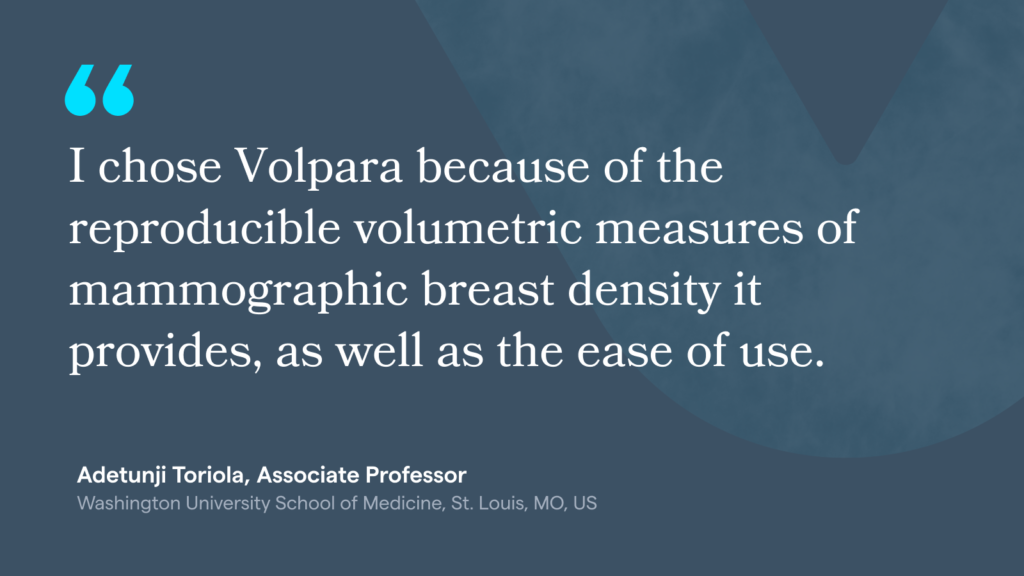 Dr. Karla Kerlikowske (University of California, San Francisco, CA, United States): We have used Volpara to evaluate breast risk prediction and mode of detection. We use Volpara because it has several measures of breast density, including a BI-RADs like measure and dense volume, and the measures are reliable and reproducible. 
Professor Ken Young (Royal Surrey County Hospital, Guildford, United Kingdom): Our biggest project that uses Volpara is the OPTIMAM Mammography Image Database (OMI-DB). This database is funded by Cancer Research UK and contains screening mammograms from the NHS Breast Screening Programme. A valuable addition to the database is our ability to use Volpara breast density data for the images in the database. OMI-DB supports research groups worldwide in numerous projects including the development of breast AI. Volpara breast density data adds to the value of the database and helps researchers investigate the impact of breast density on cancer detection and risk of development. We are also currently working with the Million Women Study (CRUK funded) to see how breast density and mammographic appearance can be used to help predict risk of breast cancer development.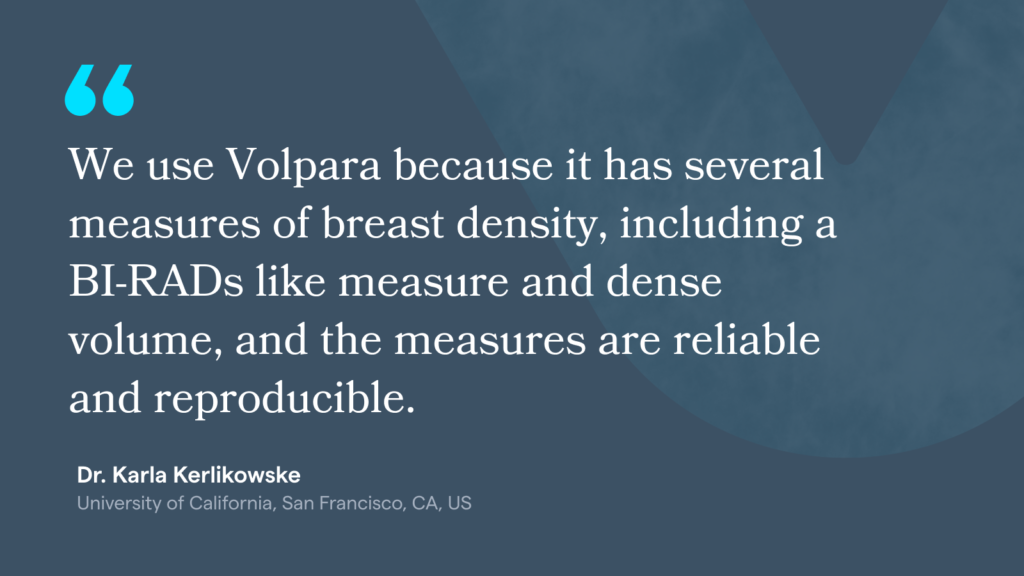 What are some promising areas of research that you suggest could benefit from the use of Volpara algorithms? 
Dr. Jennifer Harvey (University of Rochester, NY, United States): The standardization of breast density measurements using 3D techniques provides optimal measures for research in the relationship of density and risk, and has potential to best measure changes in density and subsequent changes in breast cancer risk. 
Professor Jack Cuzick (Queen Mary University of London, United Kingdom): The key improvement that Volpara brings to density reporting is an objective, reproducible density value that can be used in risk assessment models. These models are increasingly being used to determine if a woman qualifies for MRI based screening, and also to decide if the risk is high enough to warrant preventive therapy to reduce risk.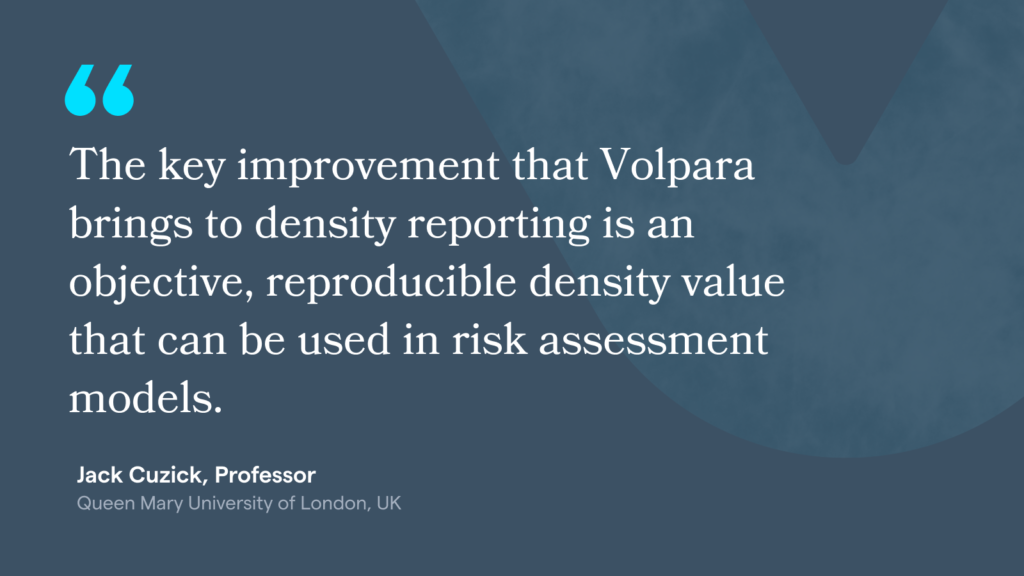 What has it been like to work with Volpara Health over the years? 
Assoc. Prof. Toriola: I have had a very positive experience working with Volpara. The team has been very responsive to all my technical needs and is always available to answer questions and troubleshoot if needed. [They have] always ensured that my questions are addressed by the right people and on time as well. They are willing to jump on video calls to troubleshoot and resolve any issues we might have. 
Dr. Kerlikowske: The Volpara team is very supportive of clinical research. Over the years, they have updated their software and provided the most up to date version for research. 
Prof. Young: Volpara has been very supportive of our work and has not only provided their software tools but helped us to understand how they work.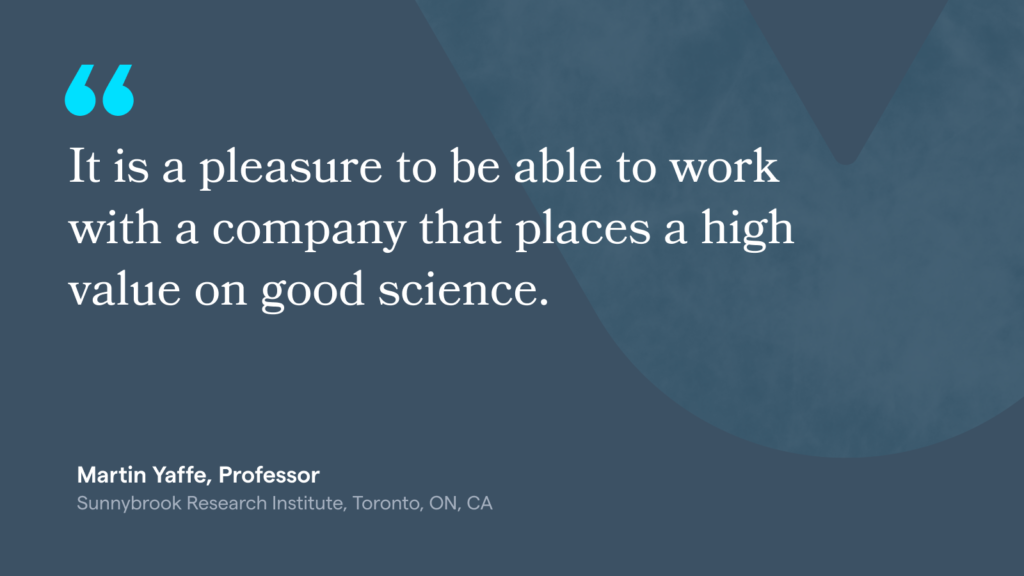 What would you say to researchers considering collaborating with Volpara? 
Prof. Yaffe: I have enjoyed working cooperatively with Volpara scientists. Volpara has been very facilitative for our research, and it is a pleasure to be able to work with a company that places a high value on good science. 
Assoc. Prof. Toriola: You can't go wrong with Volpara. They have a dedicated team who understand your research needs on mammographic breast density and will always respond to your questions. Notably, they are constantly improving the software and algorithm that drives Volpara. 
Dr. Kerlikowske: Volpara is an excellent product that provides an array of breast density measures.  Having access to Volpara for clinical research has allowed us to move the field of breast cancer risk prediction forward. 
Prof. Young: We would highly recommend other researchers to collaborate with Volpara, a company with a strong history of innovative research.
Click here to read the full press release.