A pressing mammography issue
Analytics
Quality
Imaging Network
Volpara Analytics uncovers the source of a compression issue and validates staff performance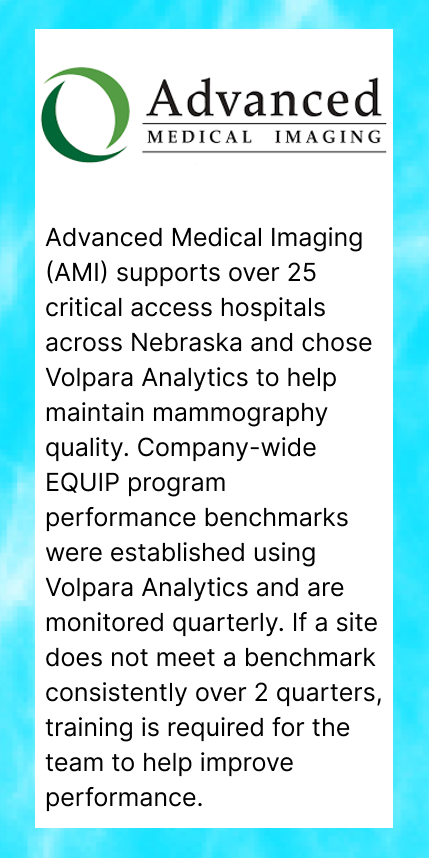 Lexington Regional Health Center, with professional radiology services provided by Advanced Medical Imaging, is located in Lexington, Nebraska. Imaging Manager, Gena Carpenter likes working with numbers and enjoys the metrics she receives from Volpara Analytics™ to monitor mammography quality. Her team regularly logs into Analytics and ranks third in the world among all global users of the software. Their high global ranking for quality (positioning and compression) consistently meets or exceeds AMI's MQSA EQUIP performance benchmarks. Volpara Analytics software uses artificial intelligence (AI) to monitor the quality of every mammogram image and compression level.
Recently Gena learned that her team had shown a downward trend in compression over the last 6 months. They were averaging 83% target compression and now appeared to be at 53%. "Our patients were receiving the same high-quality mammograms, but the reports showed lower compression based on the AI." Gena spoke with the quality assurance team, who suggested to start increasing compression.  "Because of our regular use of Volpara Analytics, my instinct was that our staff was not under-compressing. I worried if I asked them to start increasing compression by 30% it would cause excessive patient pain and image distortion," said Gena.
Gena reached out to her Volpara Customer Success Manager, Tara Bottchen RT (R )(M), to ask for input about the downward trend. Volpara assigns each customer location a dedicated Customer Success Manager who has regular site interactions, provides insights and builds familiarity with each site."Tara made it easy to investigate the problem. We figured out when the problem began and uncovered a change in the compression measurement coming from the mammography system," said Gena.
Lexington Regional Health Center had upgraded from a 2D to a 3D mammography unit. Data from Volpara Analytics helped determine the timing of when the downward trend in compression became clear. "I wondered how Volpara could distinguish differences between our old and new system and was impressed to learn that Volpara tests their AI software on every mammography manufacturer's machines. This enables the software to identify performance issues from any manufacturer," said Gena.
A service call was scheduled with the system manufacturer, and it was found that the compression thickness was calibrated at the low end of the normal range. The vendor's service engineer also reviewed the Analytics report to troubleshoot. Gena's staff had been applying the correct amount of compression all along. The service engineer performed the appropriate measures to reestablish the baseline. Once completed, target compression began trending appropriately immediately!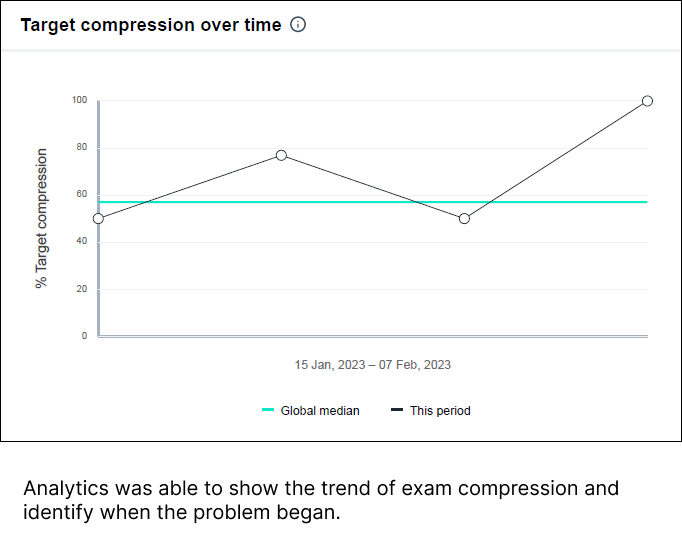 If the technologists at Lexington Regional Health Center had not been regularly logging into Analytics, this situation would have been much harder to figure out. "I was so thankful to be able to support my team. Compression performance is very hard to measure without a tool like Volpara Analytics. Proving the mammography team is hitting benchmarks and having a holistic view of their performance is possible with Analytics," said Gena.
Tara added, "the key to uncovering this problem is Gena's willingness to look at everything as a whole. Often the lead position does not have time to dive deeply into a problem and will just go along with a recommendation. If Gena had done that, it would have negatively affected patient comfort and image quality."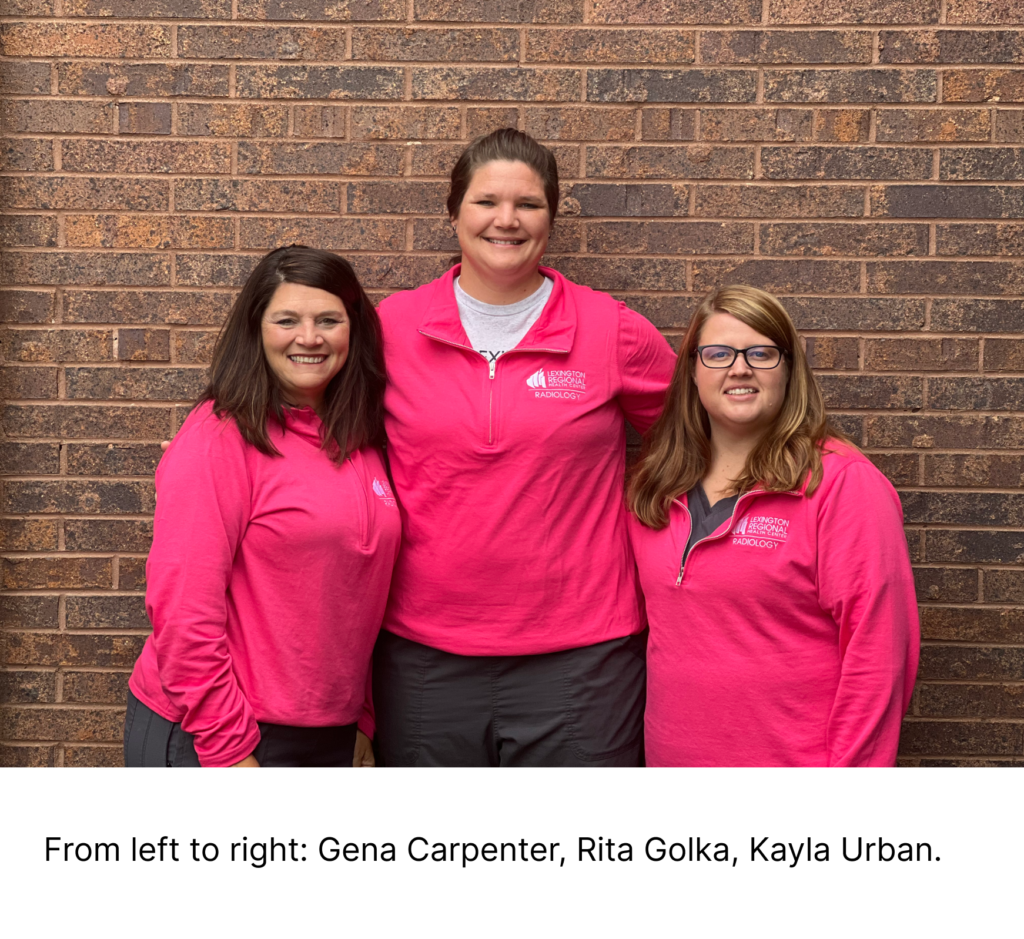 "This is a great lesson for other small facilities too. We only have one mammography unit, so we had no basis to compare performance with another unit. If we didn't use Volpara Analytics, the outcome may have been very different," Gena said. "The combination of AI and the excellent skills of our technologists helps us provide high-quality mammograms for every patient."
AMI corporate management is noticing the benefits for the organization too. "Volpara Analytics has been a great tool for me to look across all AMI locations and understand the individual performance of the technologists," said Sarah Bonesteel, Women's Center Manager at Advanced Medical Imaging. The individual reporting helps us evaluate work quality and quantity which enables us to provide specific feedback. Related to compression, Analytics has helped us achieve the target range of 7-12 kPa more consistently and to no longer rely on physical touch and generalizations based on the size of the breast."