Many of you know me as the "Volpara density guy" and for over a decade I have been telling anyone who would listen about the importance of precise density measurement and its impact on cancer risk. 
Precision volumetric density measurement, like Volpara Scorecard, is a key element to a better risk evaluation on any mammogram.  Risk assessment software like Volpara Risk Pathways that includes volumetric density as part of the risk calculation, helps add precision to the score and has the potential to greatly impact important screening and prevention decisions.   
The recent interview with Dr. Jack Cuzick and Dr. Stamatia Destounis by The Imaging Wire delivered interesting updates that everyone should know including developments in density as predictor of cancer and as a potential guide for decisions on screening and prevention tactics.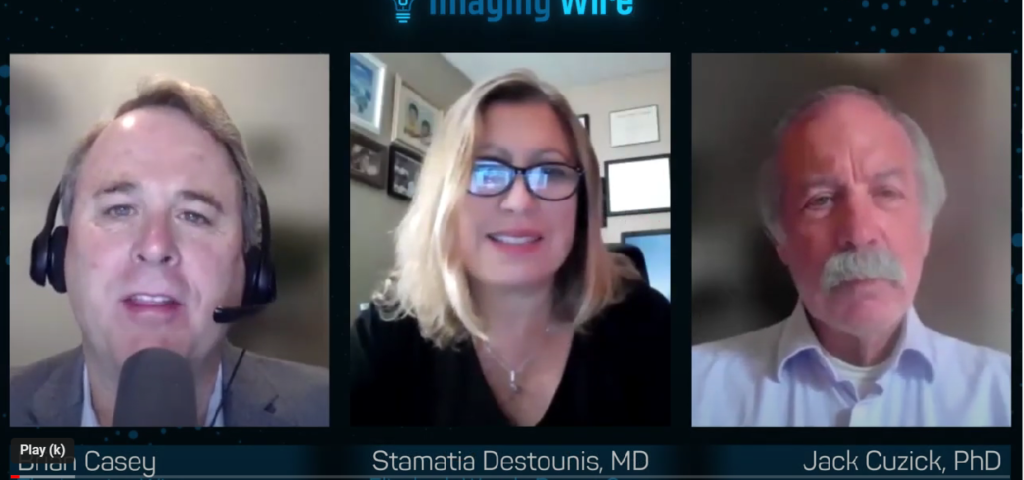 Below are some key points from the interview, but I encourage viewing the full 20-minute clip to hear these industry icons discuss their work and how to impact cancer prevention and earlier detection of cancer.
Dr. Destounis: I'm interested in the latest technology and how to incorporate clinical research into what we do every day. We've done a lot of work with breast density and how it correlates to breast cancer risk. We offer qualified patients supplemental screening – breast ultrasound, contrast enhanced mammography, which is kind of taking off right now, or breast MRI. 
We use Volpara Risk Pathways software that inputs the patient family/health details, and all the risk models populate. The Tyrer-Cuzick model is so inclusive, we utilized that one because it collects all the very important information, including breast density, to calculate the patient's risk. We are able to identify higher risk patients accurately and then can offer them supplemental screening, genetics or prevention techniques.  
Dr. Cuzick: The proper measurement with volumetric density is much more relevant than BI-RADS, which is a personal measurement so it's not that reproducible between people. It's better than nothing, but it's nowhere near as good as a proper volumetric measurement. 
Dr. Destounis: Volumetric breast density is a very good predictor for breast cancer and for the higher, greater than two-centimeter tumor size. The higher the volumetric breast density, the more there's risk of missing the cancer and finding it when it is a lot larger. It makes perfect sense.  
Volumetric assessment correlated much better than our visual BI-RADS assessments. It was a much more accurate way of assessing breast density and we identify these women with the bigger tumors for screening-detected cancers, and for the interval cancers that occur in between years. We definitely need a software solution that's consistent and reproducible, like Volpara. 
Dr. Destounis: We'll continue working with volumetric density and to further develop our high-risk program. We're looking at breast MRIs that we've done in a high-risk population, and this is something I'm presenting at RSNA.  
After looking at 5 years of data, we found that women that got genetics, the risk assessment evaluation and the MRI, those women ended up having breast cancers that were smaller and the burden of tumor was a lot less.  So, we'll continue to work with that and look at the continuum of volumetric density and see how we can better assign risk to patients. 
With the federal legislation coming into law in September 2024, I'm also looking forward to the developments in politics and advocacy over the next year or address payment for additional tests for women with at higher risk.
View the full interview. 
Jack Cuzick, PhD is Professor of Epidemiology and former director of the Wolfson Institute of Preventive Medicine in London. Dr. Cuzick, along with Dr. Jonathan Tyrer, developed the Tyrer-Cuzick model which helps calculate an individual's risk of developing breast cancer. His work in cancer prevention includes 2 major trials one on tamoxifen for high-risk women and then, more recently, although 10 years now, with the aromatase inhibitor anastrozole and showed that anastrozole is a highly effective way of actually preventing breast cancer.
Dr. Stamatia Destounis is a radiologist and managing partner of Elizabeth Wende Breast Care in Rochester, New York. Dr. Destounis is well known for her clinical and research work on many topics in breast Imaging, including CAD, digital breast tomosynthesis, breast ultrasound screening and breast MRI. She has a special interest in genetics and risk assessment. Elizabeth Wende has had a genetic counselor on staff for over 13 years. It's also one of the busiest outpatient genetics risk assessment clinics in the country.