Across the United States, hospitals and imaging centers are beginning to resume non-emergency healthcare services, including breast imaging. There's no doubt that mammography has been strongly impacted by shutdowns related to the COVID-19 pandemic, with some estimates placing the downturn in overall outpatient imaging procedures at nearly 70 percent.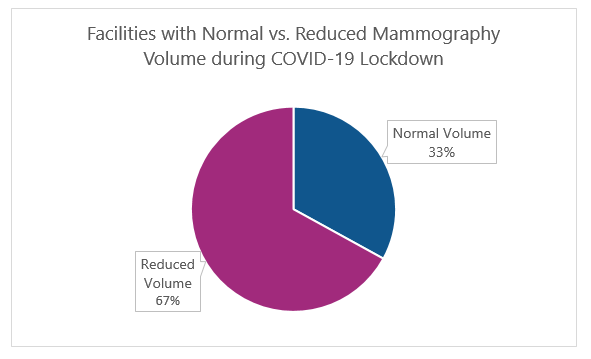 Now that restrictions on healthcare services are easing, 78 percent of Volpara®Enterprise™ software customers have resumed screening. Volumes have returned to within 10 percent of previous levels. As imaging facilities open their doors and deal with a customer backlog, 5 percent of our customers are even recording image volumes greater than pre-pandemic levels.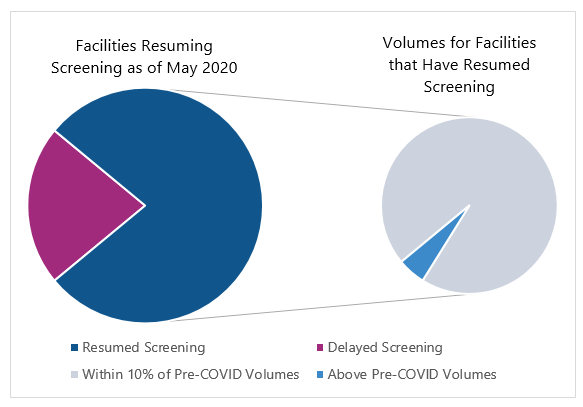 Volpara recently spoke with Robyn Cole, BSRT(R)(M)(QA), about the strategies adopted by her workplace to communicate with patients, adjust the workflow to maintain effectiveness, and keep patients and staff safe. Robyn is the Mammography Supervisor at Oregon Imaging Centers (OIC) in Eugene and Springfield, Oregon.
Volpara: How are you communicating with patients about participating in screening again?
Robyn: We held multiple management meetings to review how each department could implement a smooth transition for both the patient and the OIC team. We used a few forms of communication, including letters, scheduled calls, and on-hold messages, to disseminate information regarding social distancing and disinfecting protocols. OIC also uses social media to share information, and now offers two check-in options to facilitate social distancing: via kiosk and checking in and waiting from your car.
Volpara: How are you adjusting work practices to accommodate the patients returning to screening?
Robyn: We decided to start at 40% capacity to accomplish both social distancing and increased time required for disinfection. As we acquire further information and patient feedback, OIC's management team will decide how quickly we will increase the capacity for screening mammography. New workflows have been adopted to limit the places a patient would visit in order to decrease the areas to be disinfected. For instance, we've added a private area to the exam room so patients can change there instead of in the changing rooms.
Volpara: What do you expect the impact to be on staff whose work necessarily places them in close contact, such as technologists and radiologists?
Robyn: OIC is fortunate to have a paperless process between technologist and radiologist. With the use of calls to the reading room, networking from home, and six-foot marks for social distancing, communication can still happen safely.
Volpara: And staff morale? What has that been like during this time?
Robyn: In the beginning it was a challenge as expectations and information weren't clear. Now that we have greater clarity in this regard, the team is adjusting well! A daily huddle (and sometimes donuts) helps the team feel informed and supported. I also feel that it's important to share the positives, which also helps build morale.
Volpara: How do you see next year at this time, with a possible decrease in patients once they have a new "yearly" established?
Robyn: Find the positive, continue to work with the community, provide additional training, and keep focusing on team building.