Nearly two million people in the US will be told they have cancer this year1 – impacting them, their families and friends. Cancer affects so many more people than those who are diagnosed with the disease. 
The 2022 cancer statistics are dire according to the American Cancer Society (ACS).1 Of the approximately 1.9 million new cancer cases and 609,000 cancer-related deaths predicted in the US this year, lung cancer is predicted to be the deadliest for both sexes, responsible for 21% of predicted deaths. And breast cancer is expected to remain the most prevalent form of cancer diagnosed among women.1
The public health response has been forceful. The severity of the lung statistics led the US government to change guidelines2 to encourage lung cancer screening at an earlier age since this disease is mainly found at a late stage when treatment options are minimal.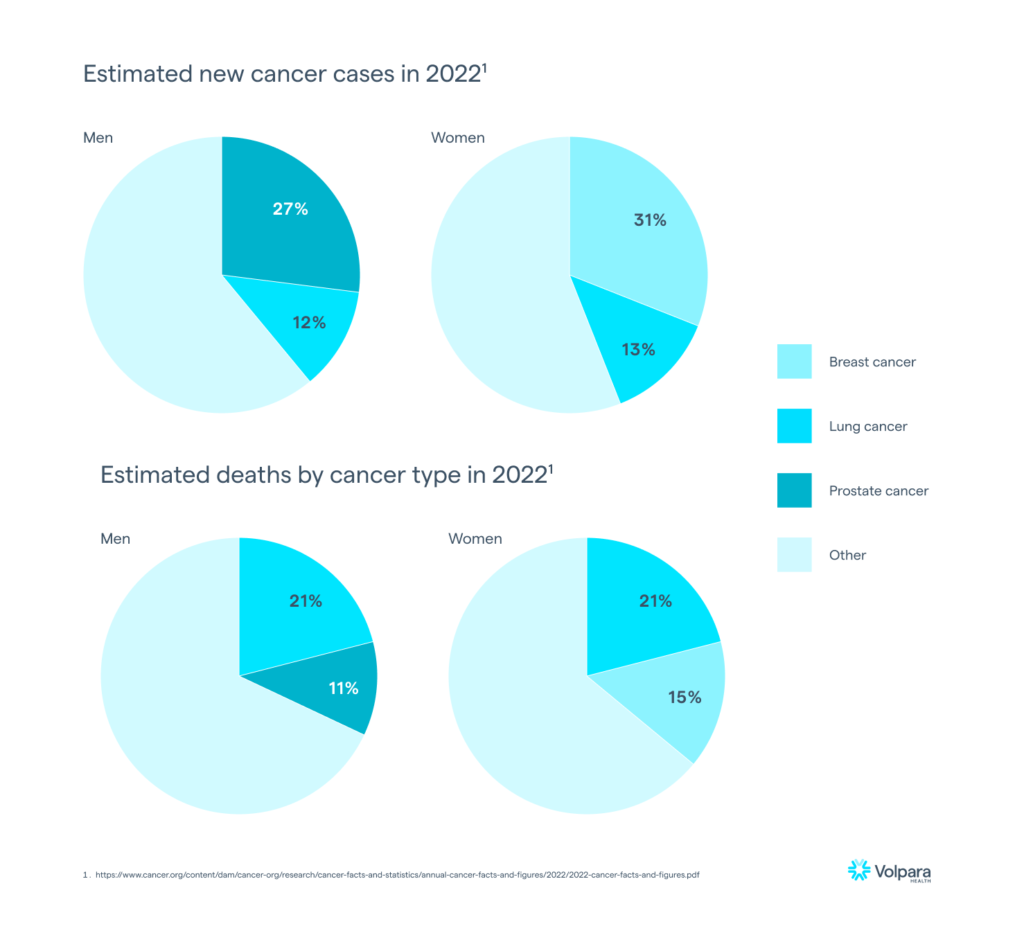 Graphics reproduced from Figure 3 in ACS Cancer Facts & Figures 2022.1
While receiving regular cancer screening is the main method for catching cancers early, it is not always the most effective. Researchers estimate that inherited genetic mutations are involved in 5% to 10% of all cancers, meaning that up to 10% of cancer cases are hereditary.3 Hereditary cancers are by their nature not random and therefore present the opportunity for more targeted care options. In recent years especially, personalized cancer screening based on risk assessment and patient genetics has been on the rise, though patient management guidelines are struggling to keep up with the technological advances in genetic testing. 
For breast cancer in particular, there are many well-researched genetic mutations that are commonly discussed in the literature: BRCA1, BRCA2, TP53, and CHEK2.4 However there is still a lot of work to do in terms of educating patients about their risk of developing breast cancer, including the effects of their family history, genetics, and factors that are indicative of a hereditary cancer. 
At Volpara Health we work relentlessly with clinicians and staff at clinics worldwide to drive better outcomes for patients. We help clinicians identify at-risk patients and, where possible, family members who may benefit from genetic testing to determine the most appropriate screening pathways – for breast cancer as well as other cancers. 
Volpara's Risk PathwaysTM software can integrate with major clinical laboratories via the Lab Connect feature to enhance workflows in women's imaging or high-risk clinics, as well as OBGYN or primary care offices. Our clinicians have the freedom to choose between a diverse group of laboratory partners (Myriad, Invitae, Natera, and Ambry) when it comes to offering a patient pre-test counseling or ordering a genetic test. Our ability to generate pre-populated test request forms and eventually direct e-ordering reduces paper workflows and includes both results delivery and patient tracking within the Risk Pathways Provider Portal. In short, Volpara Risk Pathways improves efficiency so providers can maximize what really matters: spending time with their patients. 
To learn more about how Volpara Risk Pathways can benefit your facility, from offering baseline risk assessments to long term patient tracking and management through genetic testing, reach out to info@volparahealth.com. 
References:
1. https://www.cancer.org/content/dam/cancer-org/research/cancer-facts-and-statistics/annual-cancer-facts-and-figures/2022/2022-cancer-facts-and-figures.pdf
2. https://www.uspreventiveservicestaskforce.org/uspstf/recommendation/lung-cancer-screening
3. https://www.cancer.gov/about-cancer/causes-prevention/genetics
4. https://pubmed.ncbi.nlm.nih.gov/25824734/