SEATTLE, WA, October 3, 2022— Volpara Health (ASX: VHT), a global leader in software for the early detection of breast cancer, received a prestigious 2022 Good Design Award Winner Accolade for Volpara AnalyticsTM in the Digital Design category in recognition for outstanding design and innovation. The Good Design Awards are the highest honor for design and innovation in Australia and reward projects across 11 design disciplines covering more than 30 categories and sub-categories.   
Each year, the Good Design Awards celebrate the best new products and services on the Australian and international market. This year the Awards attracted high-quality design projects from Australia and around the world. These innovative projects were evaluated by more than 70 Australian and international jurors. 
Projects recognized with an Australian Good Design Award demonstrate excellence in professional design and highlight the impact a design-led approach has on business success and social and environmental outcomes.  
Volpara Analytics empowers breast imaging centers to optimize their mammography quality for earlier detection of breast cancer. Using measures driven by artificial intelligence (AI), Analytics guides technologists on optimal positioning and compression, resulting in a higher-quality screening program and better personalized care for women.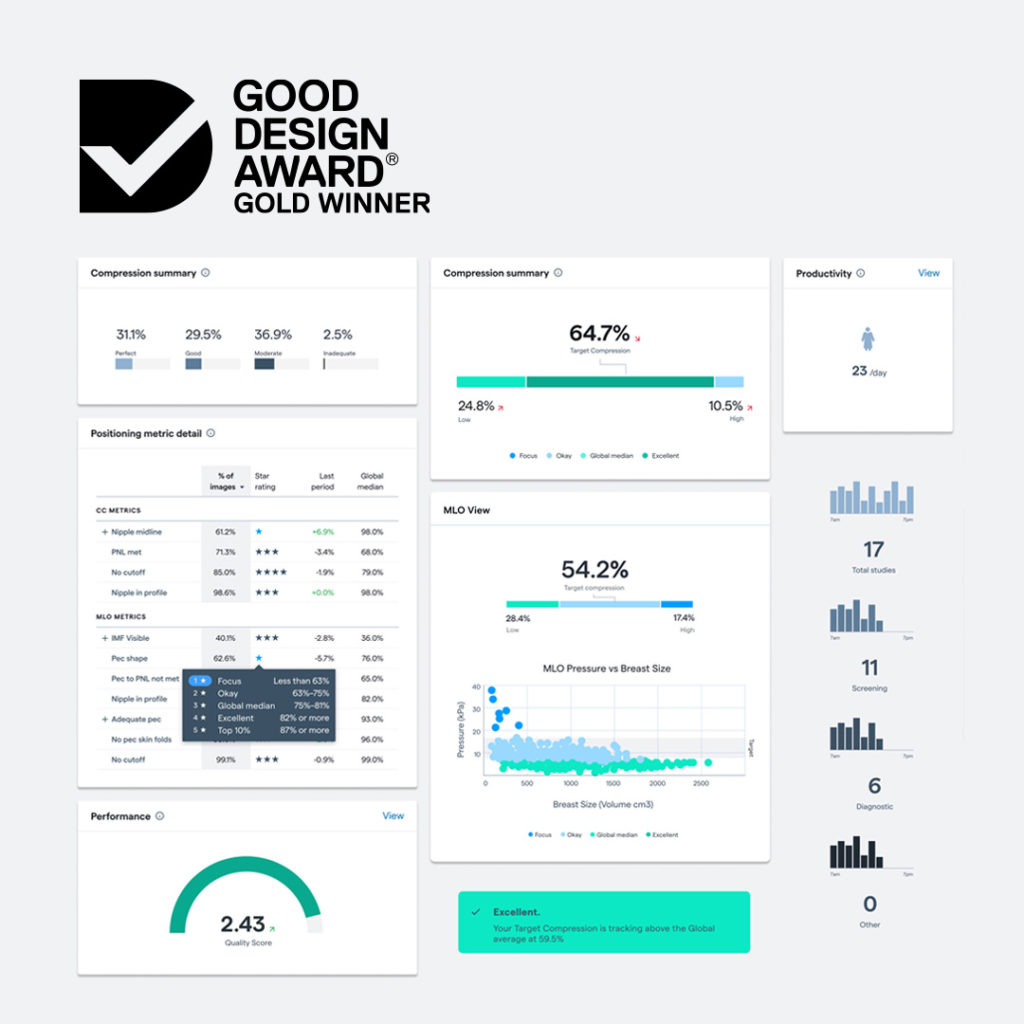 The Good Design Awards Jury commented: "The Volpara Analytics interface shows great consideration of patient and operator needs, as well as thoughtful application of the Volpara brand. We especially appreciated the fine-tuned information hierarchy visual priority, and color cues. All of which enable a rapid understanding of data being displayed, and faster, more accurate decision-making. Well done." 
 Dr. Brandon Gien, CEO of Good Design Australia and Chair of the Australian Good Design Awards said: "To be recognised with an Australian Good Design Award is a significant achievement, given the incredibly high standard of projects submitted in this year's Awards. The Good Design Award is a valuable independent endorsement of professional design quality. It tells the world this project not only represents design excellence, but it also surpasses the criteria for design innovation and design impact." l
About Volpara Health (ASX: VHT) 
Volpara Health makes software to save families from cancer. Healthcare providers use Volpara to better understand cancer risk, empower patients in personal care decisions, and guide recommendations about additional imaging, genetic testing, and other interventions. Our AI-powered image analysis enables radiologists to quantify breast tissue with precision and helps technologists produce mammograms with optimal image quality, positioning, compression, and dose. In an industry facing increasing staffing shortages, our software streamlines operations and provides key performance insights that support continuous quality improvement. 
Volpara is the preferred partner of leading healthcare institutions around the world. Our software is used in over 2,000 facilities by more than 5,000 technologists, impacting nearly 15 million patients globally. It helps providers conduct more than three million cancer risk assessments each year and can be deployed stand-alone or fully integrated with electronic health record systems, mammography reporting systems, imaging hardware, and genetic laboratories. Volpara holds the most rigorous security certifications and numerous patents and regulatory registrations, including FDA clearance and CE marking. Since listing on the ASX in April 2016, the Company has raised A$132 million. With offices in Seattle and Boston, Volpara is based in Wellington, New Zealand. 
For more information, visit www.volparahealth.com.