SEATTLE, June 27, 2023 /PRNewswire/ — Volpara Health (ASX: VHT), a global leader in software for the early detection of breast cancer, today announced it has won the Healthcare & Life Sciences 2023 Microsoft Partner of the Year Award. The company was honored among a global field of top Microsoft partners for demonstrating excellence in innovation and implementation of customer solutions based on Microsoft technology.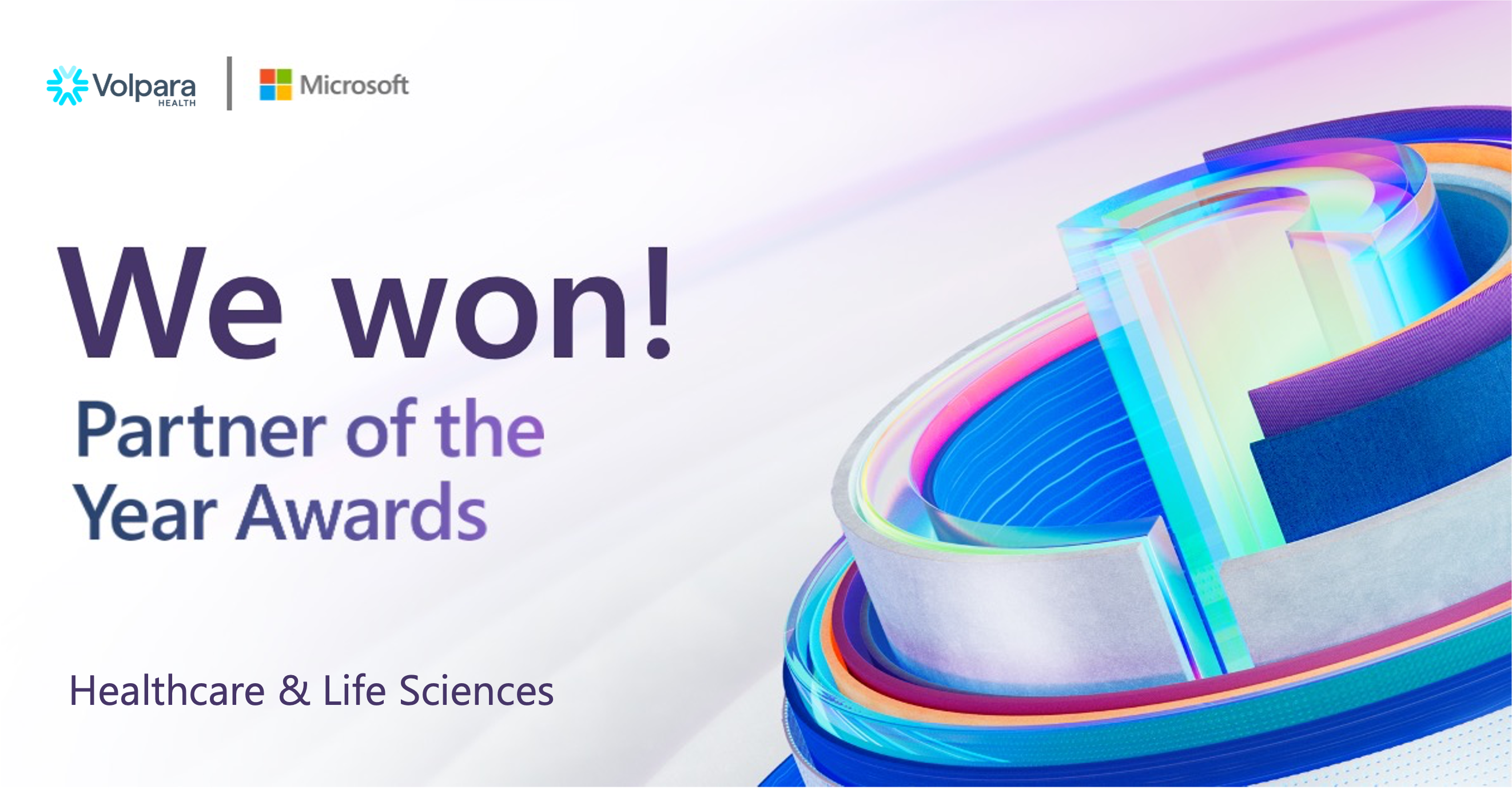 Of the awards, Teri Thomas, Volpara CEO and Managing Director, said: "We love our Microsoft partners and are so proud to be named Microsoft Partner of the Year in the Healthcare & Life Sciences category. We couldn't agree more with Microsoft that 'technology should be a force for global good' in the service of a brighter, more equitable future. This perfectly describes our collaboration with Microsoft to develop new methods of disease detection, enhance our security stance, and reach new markets, which in the end are all meant to improve people's lives. For this reason, we rely heavily on a partner as committed to the end goal as Microsoft."
The Microsoft Partner of the Year Awards recognize Microsoft partners that have developed and delivered outstanding Microsoft-based applications, services, and devices during the past year. Awards were classified in various categories, with honorees chosen from a set of more than 4,200 submitted nominations from more than 100 countries worldwide. Volpara was recognized for providing outstanding solutions and services in Healthcare & Life Sciences.
The Healthcare & Life Sciences Partner of the Year Award recognizes a partner organization that excels at providing innovative healthcare and life sciences services or solutions based on Microsoft cloud technologies, driving customer growth, transformation, and enhanced patient care.
"Congratulations to the winners and finalists of the 2023 Microsoft Partner of the Year Awards!" said Nicole Dezen, Chief Partner Officer and Corporate Vice President of Global Partner Solutions at Microsoft. "The innovative new solutions and services that positively impact customers and enable digital transformation from this year's winners demonstrate the best of what's possible with the Microsoft Cloud."
In its mission to save families from cancer, Volpara Health hosts over 90 million mammograms on the Azure cloud, builds software on the Azure IoT platform, and protects sensitive information for more than 2,000 healthcare facilities with Microsoft Security.
Last year, a team of Microsoft experts arrived in Wellington, New Zealand, to embark on a unique healthcare collaboration: the creation of a software product that detects and quantifies breast arterial calcifications (BAC), which can signal the presence of heart disease. Working alongside Volpara scientists and analysts, Microsoft provided guidance on using Microsoft's Azure Machine Learning platform to improve Volpara's BAC model and data processing. The project marked the beginnings of a new application of Volpara's AI-driven analysis of mammography and tomosynthesis images, one anticipated to enter the Microsoft Gold Partner into a new area of care and the US$146.4B cardiovascular disease market.
As part of the Microsoft Cloud Partner Program for the past seven years, Volpara is a managed independent software vendor (ISV), one of only 20 in New Zealand and the first to be recognized in the global Healthcare & Life Sciences category. In 2021, Volpara's innovative work in supporting healthcare providers was honored with its SaaS (Software as a Service) Award win at the Microsoft New Zealand Partner Awards.
The Microsoft Partner of the Year Awards are announced annually prior to the company's global partner conference, Microsoft Inspire, which will take place on July 18–19 this year. Additional details on the 2023 awards are available on the Microsoft Partner blog:
https://aka.ms/POTYA2023_announcement. The complete list of categories, winners, and finalists can be found at https://partner.microsoft.com/en-US/inspire/awards/winners.
About Volpara Health (ASX: VHT)
Volpara Health makes software to save families from cancer. We help leading healthcare providers have a positive impact on communities around the world. They use Volpara solutions to better understand cancer risk, empower patients in personal care decisions, and guide recommendations about additional imaging, genetic testing, and other interventions.
Our focus on customer value means that our AI-powered image analysis enables radiologists to quantify breast tissue with precision and helps technologists produce mammograms with optimal image quality. In an industry facing increasing staffing shortages, our software streamlines operations and provides key performance insights that support continuous quality improvement.
Volpara is a Certified B Corporation and holds the most rigorous security certifications and numerous patents and regulatory registrations, including FDA clearance and CE marking. Since listing on the ASX in April 2016, Volpara has raised A$132 million. Volpara is based in Wellington, New Zealand, with an office in Seattle.
For more information, visit www.volparahealth.com.