Many of us who work in the breast cancer space have a common quirk: being in a room full of girls and women and quickly doing the math on how many may develop breast cancer in their lifetime. My 8-year-old daughter's school play? One little girl. My 40th birthday brunch? Four dear friends.  
This can be motivating for the work we do. But it's motivating at a whole different level when you're sitting in a seat at a Taylor Swift Eras Tour concert—an experience our digital media specialist recently found herself in.
Let's do some quick math:
Each Eras Tour stop typically draws over 54,000 people, predominantly young women. Given that 1 in 8 women will face a breast cancer diagnosis, we estimate that more than 6,500 of these concertgoers may confront breast cancer in their lifetime. And remember, this is just one concert!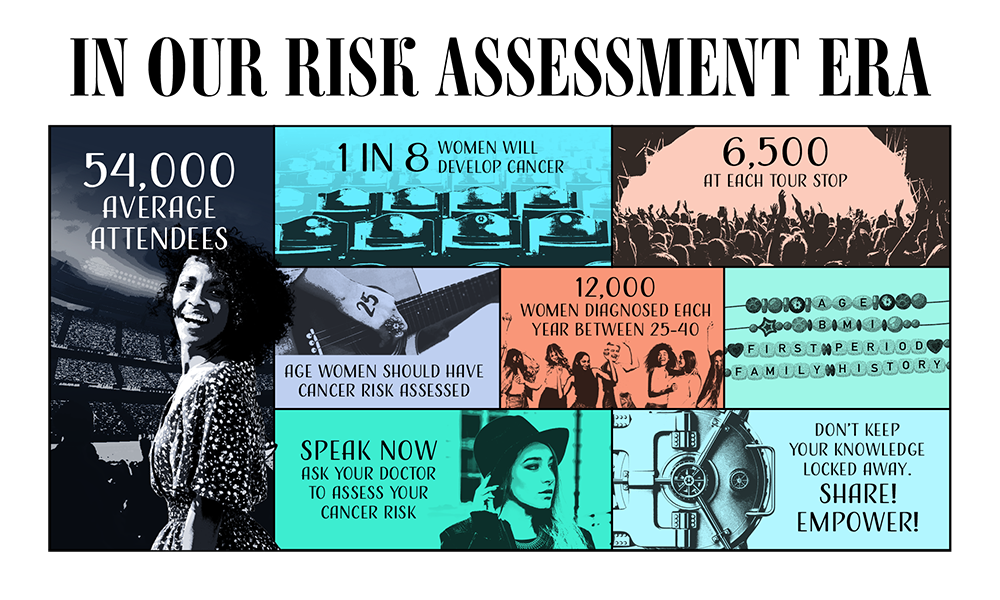 Now, consider this perspective alongside the alarming data indicating an increase in breast cancer cases among women under 40. Medical societies now even recommend initiating risk assessments by age 25.
Cancer is no longer for older people. Now is the time to make risk assessment an essential steppingstone to adulthood.
This October Volpara is using Breast Cancer Awareness month to usher in "In Our Risk Assessment Era."
Our goal is to shine a spotlight on what young people need to know about breast cancer and encourage them to demand a risk assessment at age 25.
Our hope is that when this becomes a standard component of well visits, we will be in a new era of health where far fewer women will suffer – and die – from late-stage breast cancer.
We encourage you to join us in sharing these messages and patient resources so that more women can get on the right path to prevention or catching catch their cancers earlier.